Teacher Appreciation Day
occurs on Tuesday of the first full week of May in the United States. Also known as
National Teacher Day
, Teacher Appreciation Day is on Tuesday, May 3, 2011.
The entire week is known as
Teacher Appreciation Week
(May 2 - May 6, 2011). Outside the U.S., many other country celebrate Teacher Appreciation every October 5,
World Teacher's Day
.
Popular Google searches for the holiday include teacher appreciation ideas, teacher appreciation gifts, teacher appreciation certificates, teacher appreciation event, teacher appreciation party, teacher appreciation banquet, and other similar searches.
According to the National Education Association (NEA) website, Congress declared March 7, 1980, as National Teacher Day - but for that one year only. NEA continued to unofficially celebrate the day every March, until the NEA Representative Assembly voted to change the event to Tuesday of the first full week of May beginning in 1985.
Typical Teacher Appreciation Day gift ideas include gift certificates, lunch, and gift baskets. Here are some unique ideas for
Teacher Appreciation Day 2011:

Funny Awards Live!
Teacher Appreciation Awards Show
- Give your entire staff some much-needed laughter with a performance by comedian Larry Weaver. Full of customized jokes, everyone will love participating in this highly-interactive and hilarious presentation!
Funny Teacher Appreciation Certificates
- Our exclusive line of funny teacher awards range from teacher superlatives to classroom awards. They reference common classroom objects, literary figures, noted scientists, fairy tales, popular culture icons, and much more. While some fall under the category of "poking light fun", the vast majority are creative ways to say "job well done". They are G-rated and appropriate for all types of schools around the World.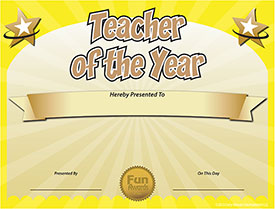 FREE Teacher of the Year Award
FREE Teacher Award Certificate
- In celebration of Teacher Appreciation Day 2011, we are giving away a FREE Best Teacher Award Certificate. You can type directly onto the certificate template before printing. Within seconds you'll have a unique award that will bring smiles to your favorite teacher! Just click the link below to download the PDF and enjoy!
Do you have unique ideas for
Teacher Appreciation Day 2011
? Please share them in the comments section!