Looking for Veterans Day gift ideas? Honor those who bravely served your country with this free
military certificate of appreciation template
.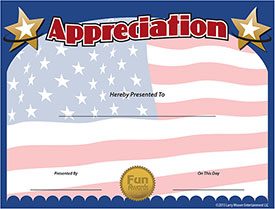 Download Free Military Certificate of Appreciation
Download, print, and share this free certificate with your favorite hero. Easily customize the award with your own certificate wording, such as "This Certificate of Appreciation is hereby presented for Service in the Armed Forces of the United States".
Please suggest Veterans Day Certificate Wording in the comments section!
Related searches: veterans day gift, veterans day appreciation, veterans day gift ideas, veterans day ideas, veterans day certificates