Find free printable certificates of excellence samples, templates and examples at FunAwards. Plus blank certificate of excellence templates to make your own excellence certificates.
Sample Certificate of Excellence
Within every workplace, office or organization, there's always at least one employee, volunteer, or staff member who excels at talking a big game. Whether they're boasting about clients, sales, academics, or just their awesome weekend, reward their braggadocio with this free certificate of excellence.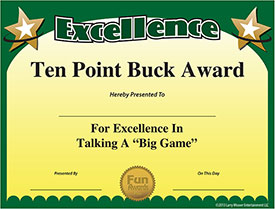 Suggested wording for presentation or speech:
"If you are going to achieve excellence in big things, you develop the habit in little matters. Excellence is not an exception, it is a prevailing attitude." - Colin Powell
This is just one sample certificate of excellence you'll find in our FunAwards signature collections:
Each collection comes with blank certificate of excellence template in PDF format so you can add custom wording to make your own excellence certificates. If you need volunteer excellence certificates or staff excellence certificates, take a look at either collection. They both have dozens of certificates applicable to any organization or gender.
Keep checking back for more free printable
certificates of excellence