Teacher Appreciation Day
occurs on Tuesday of the first full week of May in the United States. Also known as
National Teacher Day
, Teacher Appreciation Day is on Tuesday, May 4, 2010. The entire week is known as
Teacher Appreciation Week
(May 2 - May 8, 2009). Outside the U.S., many other country celebrate Teacher Appreciation every October 5,
World Teacher's Day
.
Popular Google searches for the holiday include teacher appreciation ideas, teacher appreciation gifts, teacher appreciation certificates, teacher appreciation event, teacher appreciation party, teacher appreciation banquet, and other similar searches.
According to the National Education Association (NEA) website, Congress declared March 7, 1980, as National Teacher Day - but for that one year only. NEA continued to unofficially celebrate the day every March, until the NEA Representative Assembly voted to change the event to Tuesday of the first full week of May beginning in 1985.
Typical Teacher Appreciation Day gift ideas include gift certificates, lunch, and gift baskets. If your teaching staff has a sense of humor, you can always bring a few laughs into your recognition ceremony with
Funny Teacher Awards: Your Complete Guide to Organizing a Humorous, Entertaining and Rewarding Teacher Recognition Ceremony
. These funny teachers awards are sure to put a smile on everyone's face.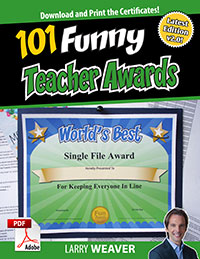 Just in time for
Teacher Appreciation Day 2010
, this PDF book includes everything you need to know to organize an entertaining and rewarding teacher recognition ceremony. You'll get
humorous award certificates
that are appropriate for everyone around the school, no matter the level of experience or type of class.
The PDF includes 76 printable award certificates packaged in a
downloadable PDF file that works on a PC or Mac
. You can type directly onto the certificates using the latest version of free Adobe Reader software. Print as many as you like on the paper of your choice. Designs are set to work on standard 8.5" x 11" paper. It's simple and easy to do.
Download Fun Awards Certificates for Teachers!
Purchase Funny Teacher Awards 100% securely at any of these great sites:
Don't forget to celebrate
Teacher Appreciation Day 2010
and remember to mark May 3, 2011 on your calendar for
Teacher Appreciation Day 2011
.