Certificate frames, also known as document frames, are a low-cost way to really dress up your awards presentation. They come in various materials, sizes, and prices. The one pictured below is a simple black certificate frame: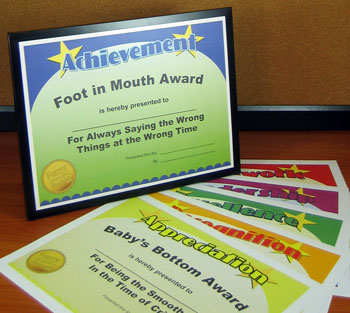 You can purchase a cheap document frame for close to $2 each on Amazon.com. You can even get an inexpensive wood frame, and simulate an awards plaque at a much lower cost. Be sure to consider these options before purchasing:
Mount: Wall mount or desktop (easel back)
Material: metal, plastic, Lucite, or wood (cherry, mahogany, walnut, rosewood, etc).
Size: 8.5 x 11 works great with our funny awards certificates.
Mat: For frames larger than 8.5 x 11, you'll want a mat with the frame.
Orientation: For our awards, choose a landscape wall mount or desktop orientation
Quality: cheap, value, gold-trimmed, tiered edge, glass, etc.
Take a look at these cheap certificate frames...